Reviews and Comments…
The Obsession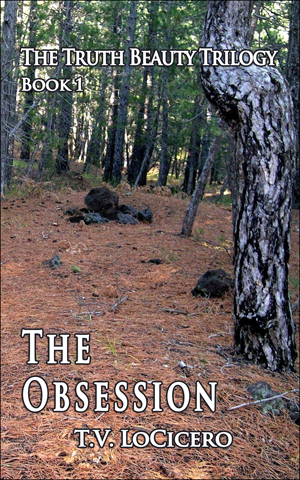 Reviews…
"Gone Girl has had a huge impact on the book world since it came out; whilst the other novel I read, The Obsession by T. V. LoCicero will be unknown to most people, I imagine. But both are pacy, gripping narratives about love grown monstrous and out of control…fascinating portraits of gender rancour, or the amazing ability men and women have to love and loathe each other with intensity. The Obsession is more straightforward in its premise; sexuality remains a dark and vexed region where reason holds no sway and the agony of unrequited love can provoke unstable individuals to violence."
Victoria Best (aka Litlove)
"The Obsession is not for the literary faint of heart…this is a powerful engaging story, one that followers of this particular genre would most likely enjoy."
Charlene Mabie-Gamble
Literary R&R
"I found this book to be very exciting. I was hooked by the time I finished the first chapter. It is very well written, fast moving and suspenseful. A stalker who is truly deranged, a beautiful professor, lovers, and friends, what more could you ask for?"
Barbara Juhl
LibraryThing
"If you like books that are not only a good read but also give you a geography lesson on a part of Europe you have never visited, this is it…gives you a look into the mind of an evil but intelligent person who has become obsessed with a woman and sinks farther and farther into depravity…a guaranteed good read…"
Barbara
Goodreads
"[A] gripping and enthralling story… I hated it every time my train was pulling up at my stop because I knew I had to discontinue reading and all I wanted was to keep my head in the book to discover what happened!…the ending was sudden and comes as quite a surprise, so hold onto your horses, people, you are in for a ride with this book."
Uncle Book
Uncle Book Blog, UK
"Awesome book"
Reza Ade
Goodreads
"[A] a good mystery and I never did guess how the ending would be played out, and that is pretty extraordinary. I am not often that much in the dark about how a book would be wound up by the author."
Victoria Chance
Amazon Reviewer
"I was blown away…This is a dark mystery full of plot twists and strong, well-developed characters. The ending truly left me speechless, and I'm usually pretty good at figuring our how a book will end! If you have read any of Mr. LoCicero's nonfiction, give his fiction a try…you will not be disappointed!"
Comic Book Nerd
Amazon Reviewer
"I loved this novel and can't wait to read the next in the trilogy. Fascinating, complex characters, a story full of surprising twists and a genuinely shocking ending. First rate suspense."
Kate
Amazon Reviewer
"This book is by far the best book I have ever read. Once I started to read I couldn't stop. The book was carefully put together, I could easily put a face to each character. I cried while reading this book in fact I wept because I could relate to the pain that each character went through. All in all it felt real. I was sad when the book ended, even though I was anxious to find out how it ended."
MaryAnn
Goodreads
The Disappearance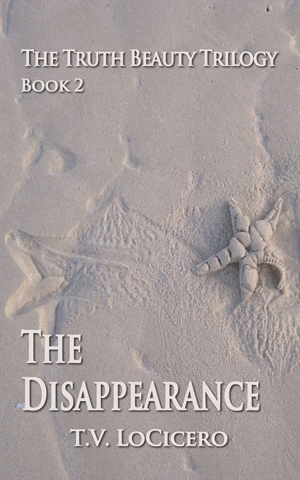 Reviews…
"This is the follow-up to T.V. LoCicero's The Obsession, and this book is just as beautifully written as the first. The character's are well developed and believable, the plot is fast-paced and full of unexpected turns, and the ending will leave you impatient for the third installment of this trilogy."
Comic Book Nerd
Amazon Reviewer
"This author knows how to tell a good story while the plot thickens and the suspense builds…a master at weaving a story that is both believable and in which the characters do not perform a lot of acts that would be considered silly or impossible in the real world as so many novels with female protagonists do. It was well worth the read…"
Barbara
Goodreads
"[A] worthy follow-up to the great first book in this series. Read The Obsession first and then don't hesitate to try this one. Great suspense and a very satisfying conclusion."
Kate
Amazon Reviewer
"The second book is The Disappearance and is just as excellent as the first…such an ornate thriller and so fantastically told!…setting the scene and describing characters is something that comes effortlessly to LoCicero…the foundation of the story and the thought behind it was something that could truly ignite the mind and thrill your core."
Uncle Book
Uncle Book Blog, UK
"The twists and turns don't let you down, loads of things revealed and answers I'd never even considered. The plot moves along so intriguingly I couldn't have read it faster. The plot was interesting. The atmosphere was dark and brooding. The characters were great. I hope this author writes more stories since there is a wonderful imagination there full of ideas that make you think. Good read. I want more."
MaryAnn
Goodreads
Murder in The Synagogue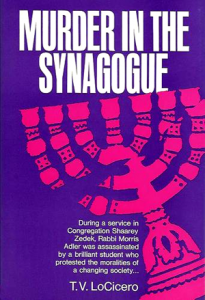 New Reviews…
"LoCicero has the ability to write about very disturbing situations and people in a detailed, dispassionate, and engrossing manner…[He] ends his fascinating factual presentation with an epilogue in which he speculates over the causes of the young man's depression and anger, including why he directed his anger against the rabbi who was trying to help him…well-written, factual, and interesting."
Israel Drazin
Top 1000 Amazon Reviewer
"[I]t really helps a person understand what could be happening in the minds of today's mass shooters."
Shar
Amazon Reviewer
"Murder in the Synagogue [is]…riveting…a case study of a crime committed decades ago."
Gabe
Amazon Reviewer
"This is perhaps the most detailed account of a brilliant young person's heartbreaking descent into homicidal madness that I've read. Highly recommended for those with a psychological bent and with an interest in the impact of society on the vulnerable young."
Kate
Amazon Reviewer
"The author never lost me and never put me to sleep despite all the discussions of philosophers like Aristotle, Nietsche and others I never got around to reading. By the end LoCicero makes it possible for you to see the situation from so many perspectives, and you understand where the killer was coming from even as you mourn his victim. Well worth the read."
Eileen McHenry
Amazon Reviewer
"In part, Murder in the Synagogue is a tribute to Rabbi Adler, one of the best known and most beloved religious leaders of his era. But mainly it is a richly detailed and sympathetic case study of one man's descent into mental illness…[T]he book is not at all sensationalistic or exploitative. Rather, it shows great sensitivity toward everyone involved. I hope that it receives some well-deserved attention in Kindle format."
D.E. Ward
Amazon Reviewer
"[A] gripping, fast-paced tale of the murder of Rabbi Morris Adler in the mid 1960s…reads more like a very bizarre novel instead of a true crime work. There are plenty of plot twists, and a very insightful look at mental illness and what drives people to commit unspeakable acts."
Comic Book Nerd
Amazon Reviewer
"Very interesting reading. I love reading about the era in which I grew up, since sometimes I was not paying close enough attention to events that may have shaped our future."
Nina Sala-Gault
Amazon Reviewer
"I found this book a fascinating study of a person with multiple personality disorders…a very complex but ultimately extremely sad character…Also, yet another argument for gun control!!!!"
Gundi Jeffrey
Amazon Reviewer
"Great suspense…Characters are well developed and I actually cared what happened to them. That in itself makes it good enough to buy."
Brian A. Husby
Amazon Reviewer
"Very interesting and enlightening to a non-Jew…filled with facts and traditions about the Jewish religion"
swilcann
Amazon Reviewer
"I am not a big fan of true crime books…However, I found LoCicero's recounting of the circumstances surrounding this 1966 murder/suicide to be fairly balanced and objective…All in all, I found the narrative compelling. I am interested now to read the account concerning the squelching of the manuscript."
Leigh Clemons
Goodreads
"After reading this book I can not understand why the publishers tried to suppress the sales on this story. It is factual and truthful…I also am going to read Squelched: The Suppression of Murder in the Synagogue."
Deb Novack
Goodreads
"LoCicero weaves the fatally interconnected lives of Morris Adler and Richard Wishnetsky wonderfully, and it's a book that I could see being read in college classes. Well done."
Kristin Chapman
LibraryThing
"Thought provoking. Well written. Kept me interested. I enjoyed reading it. Would recommend it to anyone who is looking for a good read."
Joyce Gamber
Amazon Reviewer
Original Reviews…
"The data in this book have been collected with such meticulous care and are presented in such an undogmatic way that the book has enduring value. It is not enough to recommend this book; I should express the hope that it will be widely read, understood and heeded."
Fredric Wertham, M.D.
American Journal of Psychotherapy
"…a fascinating double-portrait of the Rabbi and his killer that holds the reader spellbound from beginning to end."
Rabbi Jack Riemer
Reconstructionist Journal
"…an admirable job of research…those with a psychological bent should find it fascinating."
Haskel Frankel
The Saturday Review
"…a monumental task… carried…to satisfactory completion….This book is important to Michiganders, to Jews, to Detroit's Jewish Community, to religious leaders, to psychiatrists and to all students of the alienated young. It is worth reading, too."
Christy Nichols
Lansing State Journal
"…surprising, sobering and frightening"
Dallas Times Herald
"…significant on several levels…a look at Jewish life of remarkable scope and depth, of intimacy and charm."
Fort Worth Star Telegram
"Though the book is high priced, it deserves to be read for its clear vision of the troubled times in which the Establishment and its young people seek to further the American dream."
Pomona (CA) Progress Bulletin
"…bound to raise some probing questions about modern Jewish life."
Canadian Jewish News
"A searching and exhaustive study…illumined with penetrating psychological insights"
Minneapolis Tribune
"…remarkable…He deals with the Jewish faith and Jewish environment with great understanding and sympathy and with such knowledge as to make it difficult to believe he was not reared in that faith."
Windsor (Ontario) Star
"…brilliant"
Allentown (PA) Labor Herald
"…well worth reading"
Kansas City Jewish Chronical
Comments…
"(a) beautiful book…I think you have helped many people work through a little better the terrible tragedy that occurred five years ago. Perhaps too, it will help people realize how complicated crime is."
Karl Menninger, M.D.
Author: The Vital Balance
"I was absolutely enthralled by it. It's one of those non-fiction novels that one simply cannot put down. And you did just the right job, maintained just the right tone. I mean you do justice to the ambiguity of things, and to the mystery of the human mind."
Robert Coles, M.D.
Author: Children of Crisis
"It is clearly one of the most thorough 'Psychological Autopsies' that now exists. It is by every measure and from every point of view a terribly sad story and you have handled it well and in a most sensitive. manner."
Edwin S. Shneidman, Ph.D.
Editor: Clues to Suicide and The Cry for Help
"I read it in two long and bitter bouts, but with deep admiration throughout. From first to last you display a rare writer's gift for achieving empathy with people you did not previously know and for recreating a milieu many of whose elements must have been alien to your own experience."
Bernard Rosenberg
Editor: Mass Culture and The Real Tinsel
"I think it might well become a standard in personality psychology case study…"
Leo P. McNamara
Professor of English, University of Michigan
Squelched: The Suppression of Murder in The Synagogue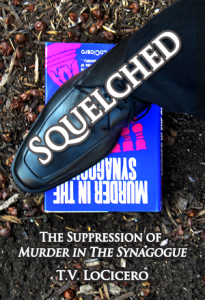 Reviews…
"I sat down and read Squelched immediately. It was so absorbing that I could do nothing else until I finished it."
Jack Riemer, Known as President Clinton's rabbi
"Although non-fiction, this detailed book reads with the speed of a best-selling fiction novel."
Israel Drazin
Top 1000 Amazon Reviewer
"Squelched is a fascinating story of corruption… riveting…more like a novel…"
Gabe
Amazon Reviewer
"Makes a person wonder how many informative books never make it to market based on pressure from one entity or another who don't want a certain subject studied. Three cheers for self-publishing e-book authors."
Shar
Amazon Reviewer
"[H]ighly suspenseful, to the point where I almost read the book in one sitting!…reads less like a novel and more like an expose, but is just as riveting. It seems Mr. LoCicero not only writes amazing fiction, but powerful nonfiction as well!"
Comic Book Nerd
Amazon Reviewer
"Misconduct by a major publishing house? A chain of lies and dodgy maneuvers keep the author's first nonfiction work from ever getting off the ground, despite being well-received by almost everyone who (against the odds) manages to read it? And there is nothing unlikely, bizarre or farfetched about any of it. This conspiracy is as pedestrian as pork and beans, and that in itself makes the story utterly believable."
Eileen McHenry
Amazon Reviewer
"[A] good example of the benefits stemming from the recent rise of ebook publishing. When he wrote down his story over 40 years ago, he was not able to find an interested publisher. But today, ebook publishing makes it possible for all of us to tell our stories to a potentially wide audience. After reading Murder in the Synagogue, I enjoyed learning more about the author."
D.E. Ward
Amazon Reviewer
"[A] grab you by the collar and a well written story of business corrupt attitudes and moral values."
Elliot B. Halberg
Amazon Reviewer
"This one's a surprising read, with a young writer's compelling account of his publisher's betrayal of his excellent first book."
Kate
Amazon Reviewer
"I found the conspiracy powerful. The money and influences that came to bare were disturbingly possible and believable. Worth the time to read."
Mabenach
Amazon Reviewer